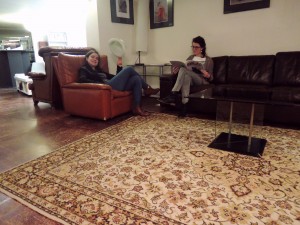 The small saloon in La Comédie's basement "Bocal" with its comfortable couches and armchairs is well-prepared for your arriving on Friday. Also the "chronic" workshop of Christophe Candoni will be held there.
A relaxing atmosphere invites to drink a cup of tea or coffee and of course to chat with other members of the YPAL group.
Agnès and Oriane who are taking care for your well-being already made themselves comfortable on the sofas.
See you on Friday!
– Hannah